Projects & Clients
68West has experience in a wide range of projects, and brings a fresh, innovative approach to your individual needs. Whether it is a simple water or sanitary line, or the site planning and approval of a 23-story luxury condominium, our goal is to always meet your project timelines on budget, with smooth, efficient project management of every detail large or small.
Below are two of our team's more recent projects, or click "Project Archives" on the left to see the diversity in our projects and expertise.
Glass House Condominiums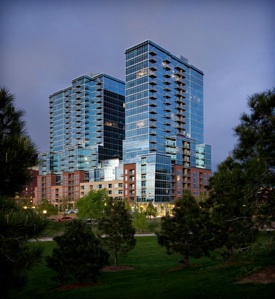 The Glass House is a 23-story luxury residential condominium project consisting of two towers and is the signature building within the Riverfront Park Neighborhood.  68West prepared the Development Site Plan for City review, negotiated and resolved development plan issues through the final approval and recording, and facilitated initial construction permitting. Upon completion of the building, we prepared the Condominium Map required for the sale of the new units.
Union Gateway Pedestrian Bridge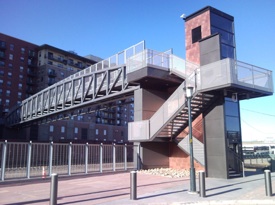 The 18th Street Union Gateway Pedestrian Bridge represents another milestone in the development of the Central Platte Valley in Lower Downtown and provides a second access to downtown from lower Highlands and the Riverfront Park Neighborhood. 68West led the bridge design team of engineers and the architect, coordinated the extensive permitting for the project through the PUC, and facilitated the negotiations for aerial easements over the rail ways and revocable right-of-way permits with the City of Denver.